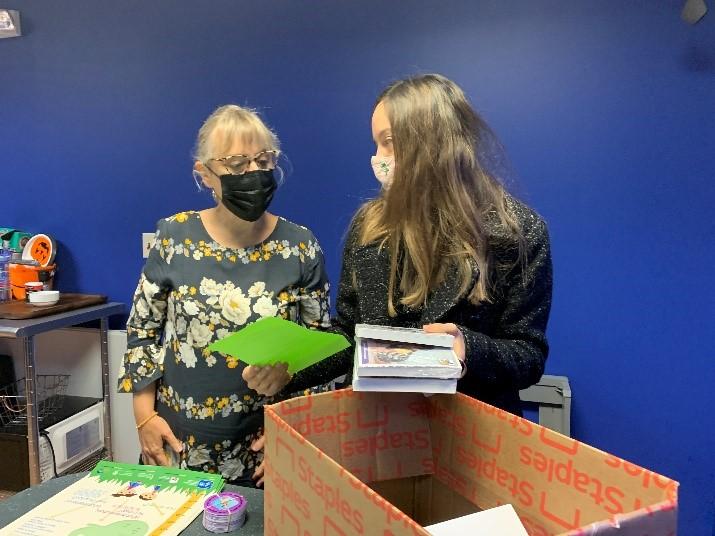 MAYVILLE, N.Y.:–Under Chautauqua County Department of Mental Hygiene's Substance Abuse and Mental Health Services (SAMHSA) grant, the Tapestry Resilience Initiative is working with local pediatric primary care providers in Chautauqua County to support our youngest community members and their families by creating awareness of the Center for Disease Control and Prevention's (CDC) Learn the Signs. Act Early and HealthySteps Programs.
Tapestry team members recently visited Southern Tier Pediatric to provide tools and outreach materials for patients and their caregivers including growth charts that complement the Milestone Tracker App. The Milestones Tracker App is a large component of this effort. This is a FREE app from the CDC that helps parents track development milestones and more. This tool educates and empowers parents to learn about, support and track their child's development from age 2 through 5 years. Some key markers tracked by the app are chronological gross motor, fine motor and writing skills, self-help, cognitive and academic, social and emotional, receptive and expressive language. The app provides easy access to a child's developmental progress to share with providers during health maintenance visits.
"We have been featuring the milestone tracker app on our practice website and there has been a positive response," said Patty D'Angelo, Practice Manager. "The app is a great tool for families and for providers as well. Our hope is that families can use the 24/7/365 resource to track each child's progress and monitor developmental milestones."
Through a federal system of care grant to assist Chautauqua County to work as a community of care for children and youth with emotional and behavioral challenges and their families, the Tapestry Resilience Initiative was created. A System of Care is a network of programs and services that creates a framework for support that encourages and supports providers to develop an accessible, responsive, appropriate and effective delivery system.
"It is important to support our children to further strengthen our communities," said Rachel Mesmer-Ludwig, Tapestry Resilience Initiative Program Director. "By collaborating with Southern Tier Pediatrics, we are able to bring focus to the key social, emotional, and cognitive skills important to healthy development."
Tapestry has also collaborated with Southern Tier Pediatrics during the first two years of the current grant and funded cross-system training on universal screening tools currently embedded in their practice workflow. It is a goal of Tapestry to identify and address concerns as early as possible to prevent mental, emotional and behavioral disorders. The collaboration with Southern Tier Pediatrics illustrates the joint effort anticipated by the grant's creation.
"Our practice has always provided developmental screening to all our patients," said Dr. Tariq Khan, Southern Tier Pediatrics care provider. "Having additional tracking tools help the screening(s) come into play as a dynamic component of overall care and treatment. The training on the (ASQ-SE) screener provided a renewed energy and focus around the importance of early identification, intervention, and referral."
For more information about the HealthySteps Program, visit https://www.healthysteps.org.
For more information about the Milestones Tracker App, visit https://www.cdc.gov/ncbddd/actearly/milestones-app.html.
If you are a local pediatric practice and would like to access support for your patients, please email mentalhygienechq@gmail.com.